This is the 1922`s Japanese Aircraft Carrier IJN HOSHO
, created by
Portuguese designer MegaMoonLiner.
Este é o Porta-Aviões japonês IJN HOSHO, de 1922,
criado pelo
designer português MegaMoonLiner.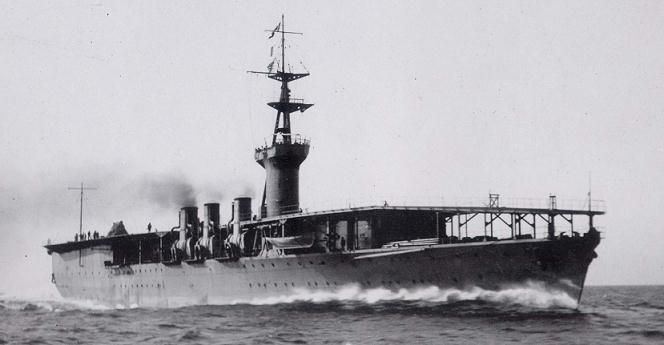 The Real Thing
Hōshō was the world's first commissioned ship that was designed and built as an aircraft carrier
, and the
first aircraft carrier of the Imperial Japanese Navy (IJN)
.
Commissioned in 1922
, the ship was used for
testing carrier aircraft operations equipment, techniques, such as take-offs and landings, and carrier aircraft operational methods and tactics.
The ship
provided valuable lessons and experience for the IJN in early carrier air operations
.
Hōshō's superstructure and other obstructions to the flight deck were removed in 1924 on the advice of experienced aircrews. During World War II Hōshō participated in the Battle of Midway in June 1942
in a secondary role.
After the battle, the carrier resumed her training role in Japanese home waters for the duration of the conflict and survived the war with only minor damage from air attacks.
She was used as a
repatriation transport after the war
, making nine trips to
bring some 40,000 Japanese soldiers and civilians to Japan from overseas locations. Hōshō was scrapped in Japan beginning in 1946.
red more at
Wikipedia
O primeiro navio concebido especificamente como um porta-aviões foi o Hosho , da marinha Real Japonesa,
que
entrou ao serviço em Dezembro de 1922.
Link:
Japanese.Aircraft.Carrier.IJN.HOSHO.Paper.Model.by.MegaMoonLiner
More WW2 Boats and Ships related posts:
Battle Cruiser Ship 1/ 800 Scale - by Etsutan - Navio de Guerra
WW2 Czech Ship President Masaryk - by Rawen
WW2 Heavy Cruiser Chokai - by Masayui - Navio Cruzador Japonês
WW2 German Battleship Bismarck - by Zio Prudenzio