Model Assembled and Photo by Paul
A really beautibul and well detailed paper model
of a
1932`s Sovietic Amphibian Tank T-33
, in
1/48 scale
, designed by
French designer Paul, via Le Forum En Papier.
Um modelo realmente bonito e detalhado de um Tanque Anfíbio Soviético de 1932,
o
T-33
, na
escala 1/48
, criado pelo
designer francês Paul
, via
Le Forum En Papier.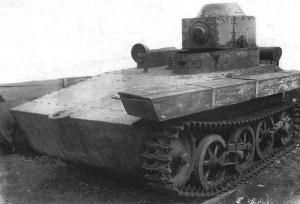 The Real Thing
On the basis of a British light tank
, the
Russians developped the T-33,
an
amphibious light tank
. It was
renamed T-37 for the mass- production
. The
design proved unsuccessful: the riveted hull was not watertight ! The production ended after the 70th unit.
A
second version
with a welded hull came into production in
1933 and got the name T-37A.
Too vulnerable, the
T-37 and T-37 A remained in service until 1942,
but only for
reconnaissance mission on lightly defended areas.
Tendo como base de um tanque de guerra leve Britânico, os Russos desenvolveram o T-33
, um
tanque leve anfíbio.
Ele foi
rebatizado T-37 para a produção em massa
. O projeto
não foi bem sucedido: o casco rebitado não era à prova d'água!
Desses só
foram produzidos 70 unidades
. Uma
segunda versão
com um
casco soldado
entrou em produção em
1933 com o nome de T-37A.
Muito vulnerável, o
T-37 permaneceu em serviço até 1942
, mas apenas para
missões de reconhecimento.
Link:
1932`s.Soviet.Amphibian.Tank.T.33.by.Paul.via.Le.Forum.En.Papier
More Military Paper Models related posts:
WW2 Truck Bedford - by Papermau - Caminhão Da Segunda Guerra
Tank Stuart MkV - M3A3 1/43 Scale - by Hobikitkertas
Czech Military Models by Vojenska Technika - Veículos Militares Tchecos
Tank M2A2 Bradley 1/43 Scale - by Julius Perdana - Paper Replika