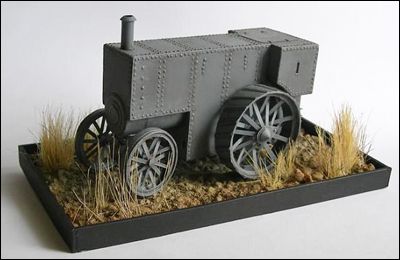 Model Assembled and Photo by JB Models
A nice model in 1/50 scale, with a realistic style, by Polish website JB Models
.
The armoured version of these tractor was made in 1899.
Vechicles take a part in conflict in
South Africa during Boer War
.
Fowler was towning three trailers also with amunition or guns.
The model is
quite simple,
only making
wheels will be little difficult.
-
JB Models
Um belo modelo em escala 1/50, bem realista, do site polonês JB Models.
A versão blindada destes trator foi feita em 1899
. Alguns desses veículos foram usados no conflito na
África do Sul durante a Guerra Boer.
o
Fowler
era usado como
transporte de tropas e também para carregar munições e armas armas.
O modelo é
bastante simples
; apenas
as rodas são um pouco mais complicadas de se montar.
-
JB Models
Link:
1899`s.Armored.Steam.Tractor.Paper.Model.by.JB.Models
More Armored and Military Vehicles related posts:
WW2`s Ammunition Transporter T-1A - by Paper Hobby
WW2`s Tank Sherman M4A3 In 1/100 Scale - by Rawen
WW2 Truck Bedford - by Papermau - Caminhão Da Segunda Guerra
WW2`s German Tank Tiger I - by Sega - Tanque Alemão Tiger I