Another nice and unusual paper model by Bryan Tan
,
aka Rocketman Tan:
the
Congreve Rocket
,
in a cool 1/1 scale.
Mais um modelo bem bacana e pouco comum do designer Bryan Tan, ou Rocketman Tan:
o
Foguete Congreve, na escala 1/1.
Model Assembled and Photo by Bryan Tan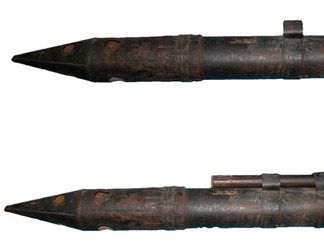 The Real Thing
The Congreve Rocket
was a
British military weapon
designed and developed by Sir
William Congreve in 1804.
The rocket
was developed by the
Royal Arsenal
following the experiences of the
Second, Third and Fourth Mysore Wars
. The wars fought between the
British East India Company and the kingdom of Mysore in India
made
use of rockets as a weapon.
After the wars, several
Mysore rockets were sent to England, and from 1801, William Congreve set on a research and development programme at the Arsenal's laboratory.
The
Royal Arsenal
's
first demonstration of solid fuel rockets was in 1805.
The rockets were used effectively during the
Napoleonic Wars and the War of 1812.
-
Wikipedia
Picture ShowingThe Use Of Congreve Rockets In Napoleonic Wars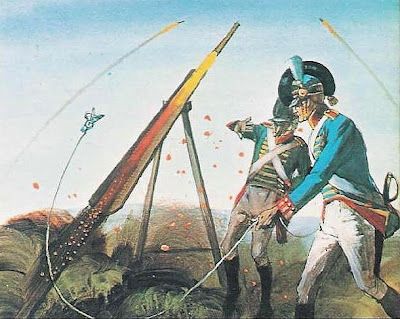 Launching The Congreve
Em 1805, o primeiro ministro inglês
, acompanhado pelos secretários da guerra e dos negócios estrangeiros assistiram a um
teste com os novos projéteis de Congreve.
Muito impressionados – talvez pelo fato de que parte dos testes foi feita à noite –, os políticos determinaram a
fabricação dos novos e impressionantes projéteis
. Usando esses primeiros modelos (
ainda com os tradicionais invólucros de papel
, que limitavam a potência dos motores),
foi feito um ataque em novembro de 1805 contra navios franceses ancorados em Boulogne,
com a condução do
Comodoro Sidney Smith.
Esta operação foi um fracasso, mas a amizade de
Smith com Congreve
e a perseverança dos dois fizeram com que novas tentativas fossem executadas. A mais famosa delas – e que traria fama mundial para a
arma de Congreve
, foi o
bombardeio de Copenhagem em 1807
, quando o
efeito incendiário e moral dos foguetes foi considerado terrível pelos próprios dinamarqueses.
- leia mais em
portal.são.francisco.congreve
Link to the model:
Congreve.Rocket.Papercraft.In.1/1.Scale.by.Rocketman.Tan
Rocketman Tan main page:
Rocketman.Tan.Main.Page.at.DeviantArt
More Military Weaponss related posts:
Panzerfaust 60 1/1 Scale - by RocketmanTan - Bazuca Anti-Tanques Alemã
Chinese Broadsword Vignette - by Sui-Shing Mak
French Medieval Gunner Paper Figure - by Zio Prudenzio
Medieval Weapons - by Sheila`s Papermodels - Armas Medievais