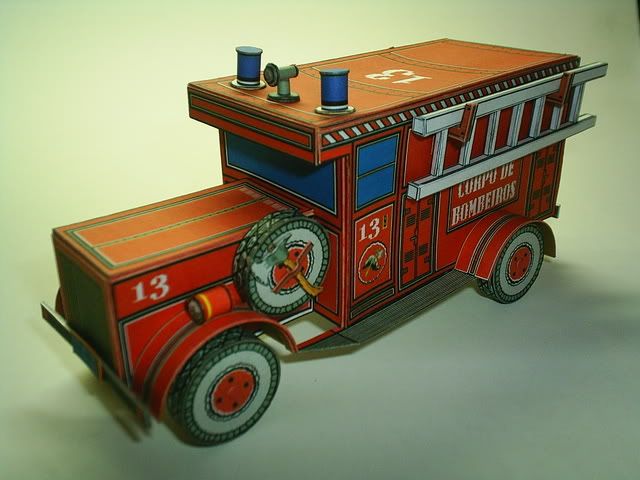 Here a model that was already posted here,
but this little
Fire Brigade Truck
has a
very detailed step-by-step construction report
, so I posted it again here in
The Weekend Pic
, with
the link to the tutorial at Le Forum En Papier.
Este modelo já foi postado no blog,
mas como ele tem
um passo a passo com fotos muito detalhado
, eu o coloco aqui no
The Weekend Pic,
com o link para o
tutorial
do
Le Forum En Papier.
A preguiça de procurar um post na net também pesou na escolha deste modelo.
The lazy to look for a post on the net also weighed in choosing this model.
Link to download the model:
The.Weekend.Pic.Fire.Brigade.Truck.Vintage.Style.by.Papermau
Link to construction report:
The.Weekend.Pic.Fire.Brigade.Truck.by.Papermau.via.Le.Forum.En.Papier
About "The Weekend Pic" -
It will always be an image of a free model, built by a designer found in forums, blogs or sites around the Net. I would like to ask the cooperation of all friends of the blog to indicate some models for this weekly post. The only requirement: the model needs to be freely distributed and there must be a link to this assembly or construction report.
Sobre "The Weekend Pic" -
Será sempre uma imagem de um modelo gratuíto, construída por um designer achado ao acaso em foruns, blogs ou sites ao redor da Net. Eu gostaria de pedir a colaboração de todos para indicar modelos para este post semanal. A única exigência : o modelo tem que ser de livre distribuição e tem que haver um link para esta montagem, de preferência com fotos de várias etapas da montagem.
More The Weekend Pics related posts:
The Weekend Pic - Carl's Flying House - by José Reis / Paper Replika
The Weekend Pic - The Pharos - Lighthouse Of Alexandria - by Kurt Streu / Delta Seven Studios
The Weekend Pic - The Clock Tower Diorama - by Papermau
The Weekend Pic - Leaning Tower Of Pisa - by Michel Cerfvoliste / Canon