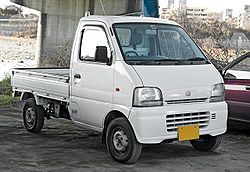 The Real Thing
The Suzuki Carry
is a kei truck produced by the
Japanese automaker Suzuki.
The
microvan version
was originally called
the Carry van
until
1982
when the van was renamed as the
Suzuki Every
(
Japanese: スズキ・エブリイ
). In
Japan
, the
Carry and Every are Kei cars
but
Suzuki Every Landy,
the bigger exported version of
Every
had a longer hood for safety purposes and a larger
1.3-liter 82 hp (61 kW) 4-cylinder engine
. They have been sold under a myriad different names in several countries, and
hold the distinction of probably being the only car ever offered both with Chevrolet and Ford badges.
O Suzuki Carry é um caminhão produzido pelas montadora japonesa Suzuki.
A versão
microvan
foi originalmente chamado de
van Carry
até
1982,
quando a van foi rebatizada como
Suzuki Every
(
em japonês: スズキ · エブリイ
). No
Japão,
o Carry e Every são carros-chefe de vendas, e
tem a distinção de ser provavelmente o único veículo da Suzuki tão vendido quanto os mais populares da Chevrolet e da Ford.
Link:
Suzuki.Carry.Van.Paper.Car.by.Takumi
More Japanese Cars and Vehicles related posts:
Mitsubishi Toppo BJ Harty Ran Paper Car - by Marubun
Nissan Pao Paper Model Car - by Ken`s Lab
Trucks, Trailers, Vans - Japanese Models - Caminhões, Trailers, Vans
Official Toyota Paper Cars - by Toyota Japan