"A very easy papercraft
with an improved technique.
No straight edges, much less flaps, comfortable to make
. Grab a child, scissors and glue, I would love to see your results!
There are more Spongebob papercrafts to come - if you ask for it".
-
Ddi7i4d
So, if want more SpongeBob SquarePants paper models, ask it on Ddi7i4d`s DeviantArt page!
Ddi7i4d also did these cool SpongeBob and Patrick Star. See the link
immediately
below the photo.
"Um papercraft bem fácil com uma técnica melhorada.
Sem bordas retas, muito menos dobras, bem simplificado.
Pegue uma criança, tesouras e cola, adoraria ver seu modelo pronto!
Há mais modelos do Bob Esponja vindo por aí - se vocês quiserem!"
-
Ddi7i4d
Então, se você quiser mais modelos do Bob Esponja Calça Quadrada, peça-os para o designer Ddi7i4d em sua página do DeviantArt!
Ddi7i4d também fez estes dois papers perfeitos do Bob Esponja e do Patrick.
Link logo abaixo da foto.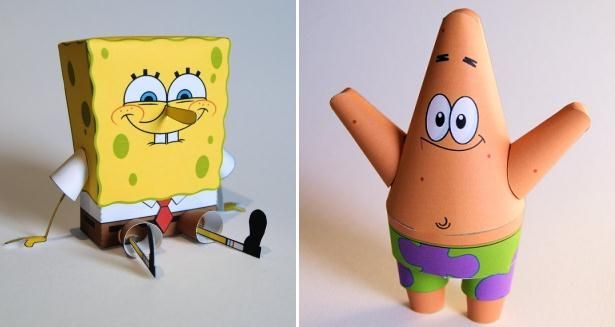 Link:
SpongeBob and Patrick Paper Toys - by Ddi7i4d - Bob Esponja De Papel
Link:
Mr.Krabs.Paper.Toy.by.Ddi7i4d
More Toons Characters Paper Models related posts:
Futurama`s Bender Robot Papertoy - by Papersyco - via Neto Papercraft
Perry The Platypus Paper Model - by X3darts
Adventure Time Papercraft - Finn Paper Toy - by Paper Pokes
Disney`s Oswald 3D Paper Toy - by Disney Family