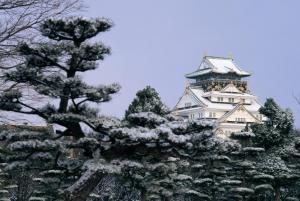 The Real Thing At Winter
Located near the center of Osaka Prefecture
,
Osaka Castle
was built on flat land on the
Uemachi Plateau
, on the former site of the
Ishiyama Honganji Temple.
In
1583, Toyotomi Hideyoshi
completed construction of this
magnificent and splendid castle
, which took three years in total. The
castle
fell in
1615
during the fighting known as
the winter siege and summer siege of Osaka
. Later,
Tokugawa Hidetada
rebuilt and greatly remodeled the castle. However, most of this remodeled
Osaka Castle
was destroyed during the
Boshin War
. Today's castle was restored in
1931
, based on paintings of the original on folding screens. Together with those in Nagoya and Kumamoto,
Osaka Castle
numbers among
Japan's three most important castles.
-
Canon
Osaka Castle In 1865
Localizado próximo ao centro da Cidade de Osaka
, o
Castelo de Osaka
foi construído sobre o
Platô de Uemachi
, no lugar do antigo
Templo de Ishiyama Honganji
. Em
1583
,
Toyotomi Hideyoshi
terminou a obra deste grandioso castelo, o que levou três anos.
O castelo foi destruído em 1615
, durante a batalha que ficou conhecida como
"o cerco de Inverno e Verão de Osaka"
. Mais tarde,
Tokugawa Hidetada
reconstruiu e melhorou muito o castelo. No entanto, muito do que foi remodelado, foi destruído na
Guerra Boshin
. O castelo foi restaurado em
1931
, baseado em
pinturas do castelo original feitas em biombos.
Juntamente com o
Castelo de Nagoya e o de Kumamoto, o Castelo de Osaka
figura entre os
três mais importantes castelos do Japão.
Link:
Osaka.Castle.In.Japan.by.Canon.Castelo.De.Osaka
More Japanese Traditional Architecture and Buildings:
Japanese Pagoda - by Otonchin.Soreccha.JP - Pagode Japonês
Kumamoto Castle, in Japan - by Canon - Castelo Japonês
Gasshoku Japanese House - by Canon - Casa Tradicional Japonesa
Old Ryounkaku Tower, in Japan - by 12 Kai.Com - Torre Japonesa