Here a little diorama representing two little shops
, a
grocery
and an
antiquarium/antique shop
. It is a nice model to
put some LED lights
. This model was designed with
Sketchup 6
.
Why sketchup 6 and not most recent versions, like Sketchup 7 or 8?
Because
Version 6 is compatible with Pepakura 3 Viewer Free Version
, and the more recent versions are not compatible. In this first post, some ideas and the
first "disassembly".
Eis aqui um diorama representando duas pequenas casas comerciais,
uma
mercearia e um antiquário
. É um bom modelo para se
iluminar com LEDs
. Este modelo foi feito no
Sketchup 6. Por quê o Sketchup 6 e não uma versão mais recente, como a 7 ou a 8?
Porquê a
versão 6 do Sketchup
é totalmente
compatível com o Pepakura Viewer 3 (versão gratuíta)
, o que
não acontece com as versões mais recentes.
The model dismounted is save in a Google Earth 4 (.kmz)
file, that can be
easily opened at Pepakura.
Once opened in
Pepakura,
the model can be
unpacked and organized
to be
printed or saved in a format (.bmp, .jpg, .gif, etc)
that can being worked on
MSPaint or Photoshop.
But that is for a
future post ...
Neste post você pode ver o modelo
em fase de elaboração e logo depois o
modelo "desmontado"
, pronto para ser
salvo em formato Google Earth 4 (.kmz)
, que pode ser aberto e trabalhado no
Pepakura Viewer 3.
Uma vez organizado no
Pepakura
, é só salvar em um formato amigável
(.bmp, .jpg, .gif, etc)
e então aberto e trabalhado no
MsPaint ou Photoshop.
Mas isso fica para um
próximo post...
Below, you see the templates organized at Pepakura.
Abaixo, você vê os templates organizados no Pepakura.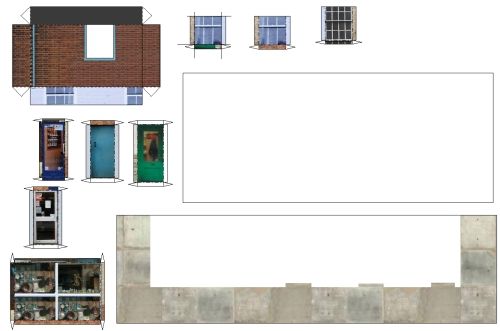 More soon...
Mais em breve...
Here the first part of this tutorial:
How To Make Paper Models With Sketchup/Pepakura/MSPaint - Part 1