A nice vintage diorama of a Arab Tent
, preserved and shared by
Agence Eureka
and assembled by
North American
modeler
Eatcrow2.
Link to download the model
at the
end of this post.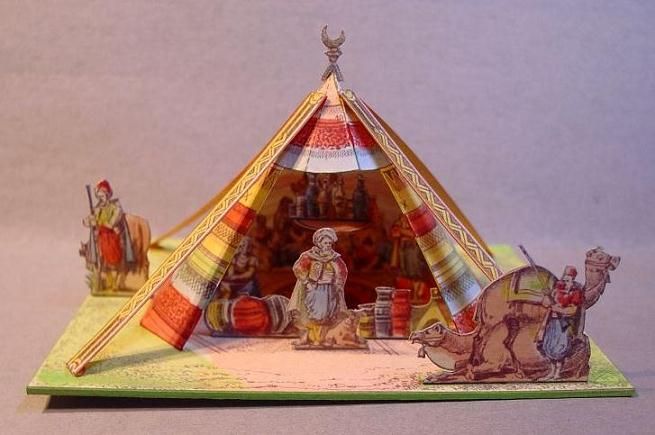 Model Assembled and Photo by Eatcrow2
Eatcrow2 says:
-
"Downloaded this from "Pillpat's"
site last night, and did a quick build. Printed it out on legal size card. Spray adhesive the base on some thick stock, and doubled up the figures on
65lb card
. Hit it with a couple of light coats of
"Future"
to seal the pastel chalk touch-ups. Colors are a little faded, but still has a nice charm to it...
Fun build, and thanks to Pillpat for making it available".
Link to download the model:
Arab.Tent.Diorama.via.Agence.Eureka
Link to original post of Eatcrow2 at Papermodelers forum:
Arab.Tent.Diorama.Assembled.by.Eatcrow2
More Vintage Dioramas related posts:
European Dioramas - by Toto - Dioramas Europeus
European Medieval City - by Kaukapedia - Cidade Medieval Européia
German Tavern in Bayern Diorama - by Kaukapedia - Taberna Alemã
French Vintage Diorama - by Agence Eureka - Diorama Francês