The Soya is a Japanese ice-strengthened cargo ship
which was built in
1938
. It was originally constructed as a commercial ship, but its
ice durability and sonar technology
prompted the
Japanese army to purchase it for use as a naval ship
. Following the war it was used as a
repatriation ship and a lighthouse supply ship
, and from
1956 to 1962
it served as an
Antarctic observation ship
. After passing the
Antarctic
torch to its successor, the
Fuji,
the
Soya b
ecame a
patrol vessel for the Japan Coast Guard.
After being decommissioned, the
Soya
was made a permanent exhibition in front of the
Museum of Maritime Science in Tokyo
and remains on display there today. This paper craft is a
1:200 scale replica of the Soya
at the time of her first expedition to the
Antarctic.
Cooperation: Museum of Maritime Science.
-
Canon
The Hasegawa Soya - Glory Days - 3rd Corps Antarctica Observation Ship
O Soya
é um
navio quebra-gelo, de carga, japonês
e foi construído em
1938
. Foi originalmente projetado como um navio comercial, mas a sua
resistência ao gelo e tecnologia de sonar
fizeram com que fosse
requisitado pelo exército japonês
para utilização como um
navio militar
. Após a guerra ele foi usado como um
navio de repatriamento e também como um navio de abastecimento de farois
. Entre
1956 e1962
, serviu como um
navio de observação na Antártida
. Depois de ser substituído na
Antártida
por seu sucessor, o
Fuji
, o
Soya
tornou-se um
navio de patrulha da guarda costeira do Japão.
Hoje, aposentado, o
Soya
se encontra em exposição permanente em frente ao
Museu de Ciência Marítima em Tóquio.
Este modelo de papel é uma réplica em
escala 1:200
do
Soya
no momento de sua primeira expedição à
Antártida. Cooperação: Museu de Ciência Marítima.
-
Canon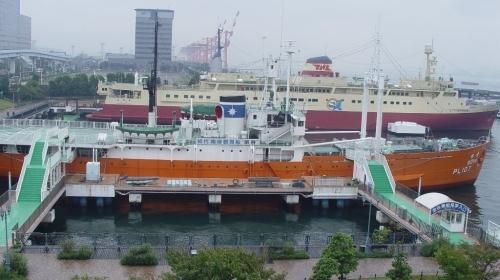 The Soya, Today, At Museum Of Maritime Science On Tokyo Bay
Link:
Antarctic.Observation.Ship.Soya.In.1/200.Scale.by.Canon
More Japanese Boats and Ships related posts:
Itsukushima Japanese Warship - by Etsutan - via Pepakura Gallery
Orient Line SS Oriana Cruise Liner - by Senaun - Navio De Cruzeiro Japonês
Ship Kasato Maru Paper Model - 100 Years of Japanese Immigration in Brazil - 100 Anos da Imigração Japonesa no Brasil
Japan Coast Guard Ships - by 01 Kanku - Barcos Japoneses