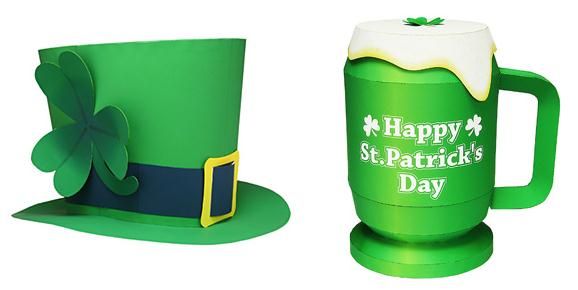 March 17th is a holiday called St. Patrick's Day
that celebrates
Saint Patrick,
who spread
Christianity throughout Ireland.
At first, the holiday was only celebrated in
Ireland,
but today it
is celebrated all over the world
by
wearing green
and holding parades. Wear this hat bearing a
shamrock - the national flower of Ireland
- and liven up events. There are two sizes available -
child size and adult size.
-
Canon
No dia 17 de março é comemorado um feriado irlandês chamado Dia de São Patrício
, que celebra
São Patrício,
o
propagador do cristianismo em toda a Irlanda
. No princípio, o feriado era comemorado apenas na
Irlanda,
mas hoje é celebrado em todo o mundo, quando as
colônias de irlandeses vestem-se de verde e desfilam
. Use este chapéu com um
trevo - a flor nacional da Irlanda
- e anime sua festa. Há dois tamanhos disponíveis - para
crianças e para adultos.
-
Canon

Link to the hat:
St.Patrick's.Hat
Link to the beer gift box:
St. Patrick's.Day.Gift.Box
Link to St. Patrick's Day flag:
St. Patrick's.Day.Flag