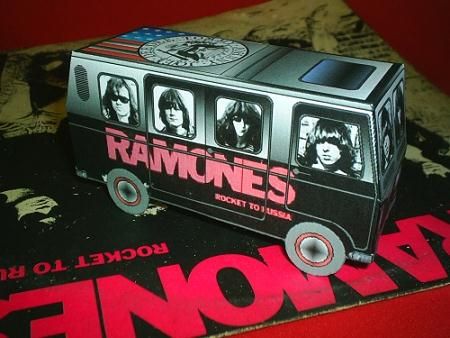 I am very happy to share
with all of you, this
simple model of a van
with textures based in one of my favorite bands:
Ramones.
I want to make clear that this papercraft is a model avaliable for free!
Int the .rar there is no music or any other kind of material related to Ramones, only a paper model made ​​by a fan to be shared with those who love the Ramones.
I say this because I have had problems with some of the bands homenageads with this type of paper model. It became clear,
download the template and Hey, Ho, Lets Go!
Fico muito contente
em poder compartilhar este modelo bem simples de uma
van
com texturas relativas ao
Ramones,
uma de
minhas bandas favoritas.
Quero deixar claro que
este papercraft foi feito para distribuição gratuíta! No arquivo .rar em que se encontra esse modelo, não há nenhuma música, arquivo de áudio ou vídeo, nem outra coisa sequer relacionada aos Ramones, apenas o modelo de papel.
Digo isso por ter tido problemas com algumas bandas homenageadas com este tipo de paper model. Agora tudo explicado, é só baixar o modelo e
Hey, Ho, Lets Go
,como diriam os
Ramones.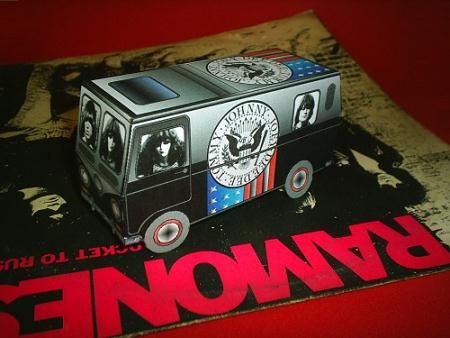 Link:
Rock.n.Roll.Circus.Ramones.Kombi.by.Papermau
This work is licensed under a
Creative Commons Attribution-NonCommercial-ShareAlike 3.0 Unported License
.
More Rock`n`Roll Circus related posts:
Rock`n`Roll Circus - Nirvana Kombi - by Papermau
Rock`n`Roll Circus - The Beatles Kombi - Early Years - by Papermau
Rock`n`Roll Circus - Kiss - Hako Style - by Homespun Magixx
Rock`n`Roll Circus - The Beatles - by Julius Perdana - Paper Replika