Here
is the
Roman Castrum in Romania,
ready to
download.
This model was made using
Sketchup
to draw the
basic lines,
then this first model was unfolded in
Pepakura.
The resulting templates were opened in
MsPaint
for applying
textures
and
tabs
and fix small errors.
Eis
aqui o
Roman castrum in Romania
, pronto para
download.
Este modelo foi feito usando
Sketchup
para desenhar as
linhas básicas
, então este primeiro modelo foi desdobrado no
Pepakura.
Os templates resultantes foram abertos no
MsPaint,
para aplicação de
texturas
e
abas
e para consertar pequenos erros.
A castrum
was a
fortified military building
by the
ancient Romans,
sometimes reconstructed. This model is
freely based in a gate entrance
located at
Porolissum
, an ancient
Roman
city in
Dacia, Romania.
Castrum
era uma espécie de
fortificação militar
construída pelos antigos
Romanos
. Muitas vezes ela era recontruída, de acordo com as necessidades militares imediatas. Este modelo é baseado livremente no portão de entrada de uma dessas fortalezas, localizado em
Porolissum,
uma antiga ocupação romana em
Dacia, na Romênia.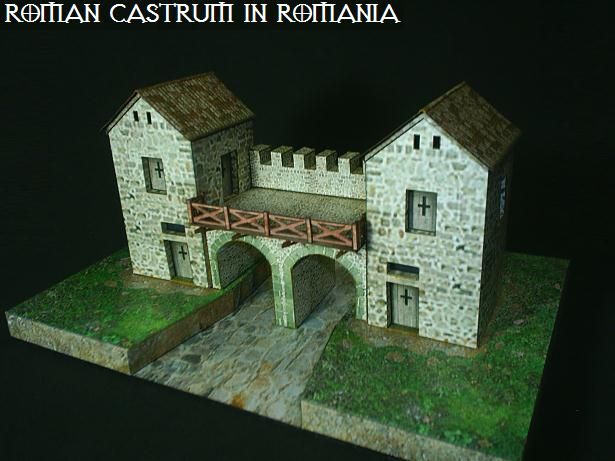 Porolissum
was an
ancient Roman city in Dacia.
Established as a military camp in
year 106 a.c,
during
Trajan's Dacian Wars,
the city quickly grew through trade with the native
Dacians
and became the capital of the province
Dacia Porolissensis in 124.
The site is
one of the largest and best-preserved archaeological sites in modern-day Romania.
Porolissum
foi uma
cidade Romana na Dácia.
Fundada em
106 d.C.
como um campo militar, e em
124 d.C.
tornou-se a capital da
Dácia Porolissensis
. Situada próxima a cidade de
Moigrad, em Salaj
, é um dos
mais bem preservados sítios arqueológicos da Romênia.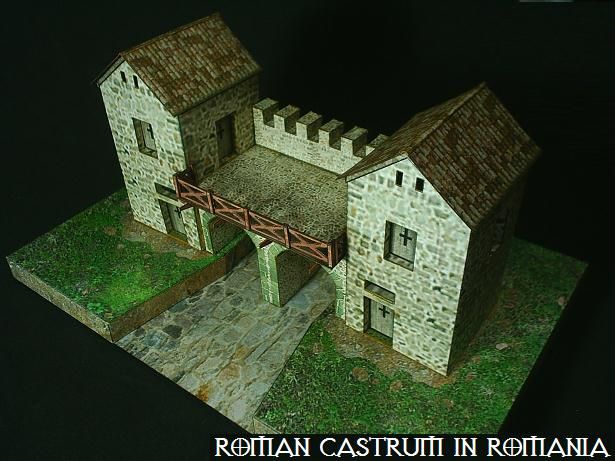 Link:
Roman.Castrum.In.Romania.by.Papermau.Download.Now!
Copyright of this model:
More Roman Castrum related posts:
Roman Castrum In Romania - by Papermau - First Part
Roman Castrum In Romania - by Papermau - Second Part
Roman Castrum In Romania - by Papermau - Some Advances
Roman Castrum In Romania - by Papermau - Templates Done
Roman Castrum In Romania - by Papermau - Assembling - Part 1
Roman Castrum In Romania - by Papermau - Assembling - Part 2
Roman Castrum In Romania - by Papermau - Assembling - Part 3