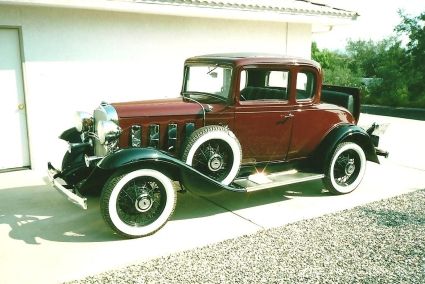 The Real Thing
In what was termed
the coldest year of the
Depression
for the automotive industry,
Chevrolet
managed to top the heap, proving to be the only
GM
division to turn a profit and outselling
Ford
by
100,000 units.
Despite the bleak year,
Chevrolet
managed to produced what is often considered among the most outstanding
Chevrolets
ever, the
Confederate Roadster.
Rather than undertake massive redesign of their
1931 model,
Chevy
focused on engine and styling improvements, and came up with 117 of them. Among the most important improvements was the
Synchromesh transmission,
which allowed easier gear changes effected by matching the speed of the gears before bringing them into mesh. Marketing of these new cars reflected the state of the times, offering what
Chevy
called the
Great American Value;
free inspection and adjustment at 500 miles, free inspection every 1,000 miles and replacement with no charge for parts.
Specifications:
60 horsepower, 194 cubic inch, 6-cylinder in-line engine. Price New: $485. Weight: 2,480 pounds. Top speed: 70 MPH. -
www.ohtm.org/32chevr
No que foi chamado o ano mais duro da depressão
para a indústria automotiva
norte americana,
a
Chevrolet
conseguiu virar o jogo, provando ser a única divisão da
GM
a dar lucro, superando a
Ford
em
100.000
unidades vendidas. Apesar de o ano ser sombrio, a
Chevrolet
conseguiu produzir o que é muitas vezes considerado um dos melhores modelos da marca já feitos, o
Roadster Confederate.
Ao invés de apenas redesenhar seu modelo
1931,
a
Chevy
focou-se no motor e em melhorias de estilo, e veio com 117 mudanças no total. Uma das melhorias mais importantes foi a
transmissão Synchromesh,
o que permitiu um câmbio menos duro. O marketing de vendas destes novos carros refletia o estado do tempo, a
Grande Depressão Americana,
oferecendo o que a
Chevrolet
chamava de
Grande Valor Americano:
inspecção gratuita e ajuste a cada 500 milhas e inspeção gratuita a cada 1.000 km e substituição de peças sem custos para os clientes.
Especificações:
60 cv, motor em linha de 6 cilindros. Preço do modelo novo: 485 dólares. Peso: £ 2.480. Velocidade máxima: 70 MPH. -
www.ohtm.org/32chevr
Link:
Chevrolet.Confederate.Deluxe.Sport.Roadster.by.Canon
More Classic Cars and Vehicles related posts:
Chevrolet Chevelle 1970 Straight To Hell - by Papermau - Download Now!
BMW Z4 M Coupe Paper Car - by Farewell The End
American Beauties - Classic Cars - by PHH29 - Carros Clássicos